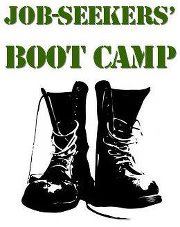 Our very helpful Job-Seekers' Boot Camp kicks off Tuesday, March 5, at 6:30 with "Job Hunting for the 40+ with Nancy Frede." Four more events follow into April.
These days, everyone knows someone looking for work. Therefore, we ask you to please share these events with anyone you think it may benefit. All events are free and you do not have to be from Bristol to attend:
Job Hunting for the 40+ Tuesday, March 5 @ 6:30

This workshop focuses on helping those 40+ who have been unemployed for a while, are underemployed, or changing jobs. It will give tips on job search techniques, resumes, cover letters, networking and volunteering ideas. Presented by Nancy Frede, a career coach and counselor.
Building Your Toolkit: Resume, Cover Letter & Elevator Pitch Tuesday, March 12 @ 6:30 [snow date: Tuesday, March 19]
What tools do job seekers need today to conduct effective searches? What are the rules for resumes? Does it have to be one page? Why is a cover letter essential? What two things must your elevator pitch accomplish? Jan Melnik (MA, MRW, CCM, CPRW) shares the best strategies and insider secrets that will help job seekers improve their resume-writing efforts.
Connecticut Job Market: Whats Hot, Whats Not Thursday, March 14 @ 6:30
Patrick Flaherty, Economist in the Connecticut Department of Labor's Office of Research, will provide an update on Connecticut's employment trends, present industry and occupational projections and highlight the state's fastest growing occupations.
The Power of Social Media: Why You Must Leverage LinkedIn & Facebook Tuesday, March 26 @ 6:30 [snow date: Tuesday, April 2]
Why should job seekers use social media in their searches? What are the best strategies for using LinkedIn and Facebook? What are some social media pitfalls? Jan Melnik demonstrates how to optimize your use of social media for networking and how every job seeker can improve their success by properly tapping social media's power.
The Game Plan: Insiders' Tips for Job Search & Effective Interviewing Tuesday, April 9 @ 6:30 [snow date: Tuesday, April 16]
What's the best way for someone to go about finding a job today? What are the secrets to effective interviewing? What are the most effective strategies for special challenges (short- and long-term unemployment, ageism, lack of degree, etc.)? Jan Melnik presents actionable strategies for executing your job-search plan to achieve success as quickly as possible.
These events are sponsored in part by a generous gift from the Friends of the Bristol Library. Registration is recommended, but not required. To register, call 860-584-7787 x2017 or see our calendar at http://www.bristollib.com/events.
Bristol Public Library is located at 5 High Street in Bristol (the corner of High St and Main St).