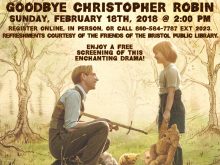 Sunday, February 25, 2:00 pm
The Afternoon Movie: Goodbye Christopher Robin scheduled for Sunday, February 18 @ 2:00 PM has been postponed to Sunday, February 25 @ 2:00 PM. Information: (860) 584-7787 x 2023.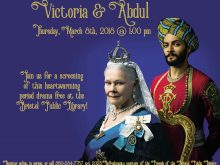 Thursday, March 8, 1:00 pm
Join us for a screening of this heartwarming period drama free at the Bristol Public Library! (2017) (PG-13) RSVP Online Register at the library, online, or call 860-584-EXT 2023. Refreshments courtesy of the Friends of the BPL.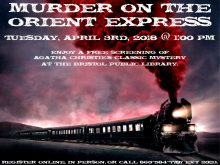 Tuesday, April 3, 1:00 pm
Tuesday, April 3rd @ 1:00 PM   Enjoy a free screening of this modern take on an old standby!   Kenneth Branagh stars as Agatha Christie's famous detective Hercule Poirot alongside Penelope Cruz, Willem Defoe, and Daisy Ridley in this...