History
The Bristol Public Library opened in 1892. It moved in 1896 from cramped quarters on North Main Street to the former Charles Treadway house at the corner of Main and High Streets.
A larger building was dedicated in 1907 to accommodate the library's growing collection. New York architect Wilson Potter designed the Colonial Revival style library, which cost $47,000. The first floor included a Circulation Desk and rooms for Reading, Reference, and Children. Public gatherings were held in an Assembly Room, which was located on the second floor.
Several alterations both structural and cosmetic have been made during the last century. A mezzanine was added behind the Circulation Desk to provide more space for books. For many years the Music and Art Department and a Biography Room were located on the lower level. At one time a Men's Smoking Room was provided for patrons.
The size of the library increased with the construction of a Children's Library wing and an Auditorium. Both of these structures were razed during the most recent renovation, revealing the north side of the Potter building for the first time in decades. The new addition, completed in 2006, reflects the architectural style of the 1907 building.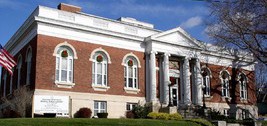 ---
Manross Memorial Library
In 1904 the library established a branch in Forestville. It was located at 7 East Main Street, in a building owned by the Sessions Clock Company.
This structure was vacated in 1947. The Sarah E. Reynolds School annex provided room for an interim branch.
In 1950 the former home of Frederick N. Manross on Central Street was remodeled as a library. Mr. Manross had been a manufacturer who was also devoted to public service.
The F.N. Manross Memorial Library currently occupies a modern building which replaced the old house in 1975.
---
Today
In the first year of its existence the Bristol Public Library owned fewer than 4,000 books. Today the entire collection includes over 200,000 books, magazines, DVDs, CDs and other material. Our library has served the public for generations and continues to play an integral role in the cultural life of the city.