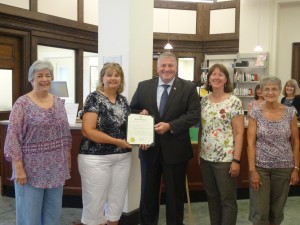 (Bristol) –On Thursday, September 3rd, Mayor Ken Cockayne presented members of the Friends of the Bristol Public Library and the Library Board with a proclamation declaring September to be Library Card Sign-up Month, a time when the Bristol Public and Manross Libraries join with the American Library Association and public libraries nationwide promote reading and literacy and to make sure that every resident has the most important card of all– a free library card.  The Mayor also received an honorary "Mayor's Card" from the library staff.
The Mayor's proclamation noted that the resources at the Bristol Public Library are available for free to anyone who has a library card.  Adults & children can turn to the library for materials, services, programs and knowledgeable library staff that support literacy, academic achievement, job skills and personal development
Some of the things A Bristol Public Library a card holder can do for free:
Use computers and free Wi-Fi
Get Tech help at the  Computer Lab
Take free online classes
Watch & download movies
Get a pass for a Connecticut museum or  attraction
Download & listen to audiobooks
Download e-books & digital magazines
Borrow books, magazines, DVDs & CDs from all Connecticut libraries
Check email and recharge mobile devices in the Express Area
Today's libraries aren't only a place of quiet study, but also creative and engaging community centers where patrons can use new technologies, learn a language or skill, read a newspaper or listen to terrific performers at the  Library Coffee House.  Our library offers access to a variety of print and digital resources, including Inter-library Loans, One Click Digital (audiobooks), Zinio (digital magazines), Universal Class (free online classes) & the ICONN state-wide database (books, e-books, journals & newspapers), that can be accessed in person or online.
Throughout the course of the month, the library will host a number of activities, including a library card sign-up booth with plenty of give-a-ways at this year's Mum Fest.
For more information on how to sign up for a library card, visit the Bristol Public Library, or the Manross Memorial Library in Forestville, in person or visit the library online at www.bristollib.com.