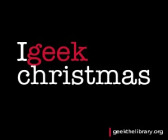 Geek: Verb
To love, to enjoy, to celebrate, to have an intense passion for.
To express interest in.
To possess a large amount of knowledge in.
To promote.
Everyone is passionate about something and we as a public library support all that you geek! Please stop in during the Friends' Festival of Trees and write what you geek on an ornament for our Geek the Library Tree.  We will also have ornaments (and fun giveaways) with us at the 27th Annual Santa's Workshop at Mrs. Rockwell's Pavilion in Rockwell Park on Sunday, December 23.
What is Geek the Library and why does it need a tree? Geek the Library is a community-based public awareness campaign designed to highlight the vital role of public libraries in today's challenging environment and raise awareness about the critical funding issues public libraries face. To show your support and get your geek on go to geekthelibrary.org.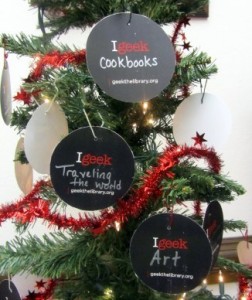 The Bristol Public Library system will be participating in this campaign in 2013 and you can expect to see Geek the Library materials all over the city.  We hope you'll have a lot of fun with it and everyone will come away with a better understanding of what libraries do and how and with what monies.
(More information about Geek the Library and what it means for Bristol will be forthcoming)