Offered Classes: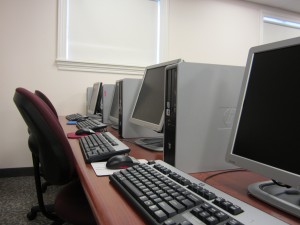 The Bristol Library computer lab hosts free computer classes covering a variety of topics.
The lab also provides job searching & resume writing help, as well as one-on-one help with special programs or projects. Details are below.
Free Computer Classes: Registration is required for all computer classes. These classes cover a variety of topics including: basic computer skills, internet & email, Windows operating system, Microsoft Office Suite, & more.
---
Job & Resume Help: The computer lab is available for job searching. Visit the Job & Resume Help page for more details.
---
One-On-One Help with Special Programs and Projects: The computer lab offers very basic help with devices such as:
Laptops & Tablets
Ereaders (Kindles, Nooks, Etc.)
Smartphones
MP3 players
The lab is also available for
Taking online exams
Job Searching
Homework
Research
One-on-one computer help is available by appointment only.