The Friends of the Bristol Public Library, Inc. was formed in 1980 as a non-profit volunteer organization. We depend on the energy and enthusiasm of our volunteers to fulfill our purpose and promote our public library as a cultural, educational and recreational asset to the city of Bristol / Forestville. Show your support for the library, join us today
To find out how you can help, read more below, or contact the Friends 860.584.7787 X 2033, or email chatfield5@comcast.net.
---
Get Involved
Book Store Hours
Monday 1pm-3pm
Thursday 5pm-7pm
Saturday 10am-2pm
Ongoing book sale in the main library lobby
**FRIENDS' HOLIDAY BOOK SALE**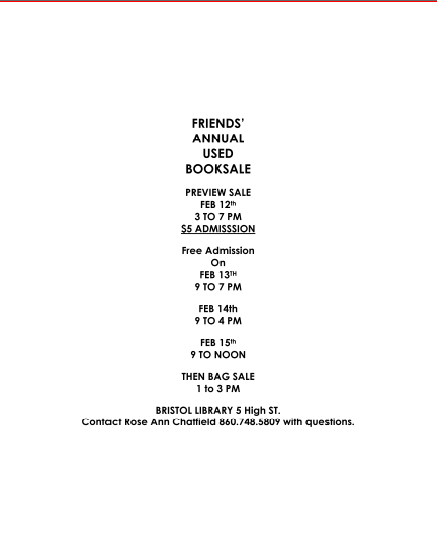 This event gives the Friends the opportunity to offer for sale the books, DVDs, videos, CDs and other items that have been so generously donated over the last year, including a large selection of British and American history, needlework patterns, and large-print fiction. Books are priced from $.25 to $2.00, with specially priced books also available.
The sale ends with a bag sale ($5.00 for a brown bag and $3.00 for a plastic bag) on Saturday afternoon from 1:00 to 3:00PM.

Proceeds from the sale help the Friends provide the Bristol libraries with items and services not included in the annual budget, such as the summer reading program for adults, teens and children.
---
For more information, call 860.584.7787 X 2033 or email chatfield5@comcast.net.
The Friends of Bristol Library raise funds, through book sales and other activities, that sponsor and support programs, library materials, and furnishings not supplied by Library resources.
Our efforts help fund:
Summer Reading Programs
Books for Babies
Public & Community Programs
Museum Passes
Book Pages Magazine
Here are just some of the ways that you can make a difference:
Attend a meeting / join us: Membership is open to all. You can be as active in the organization as you wish. Friends Membership Form
Volunteer your time: Willing workers are always welcome.
Donate: Your donation of books, money, and other materials is greatly appreciated.
Wall of Honor: Memorialize or honor someone with a name plate on our Memorial / Honor plaque, or with a name plate in a book.
The Friends hold Board and general meetings at the Main Library and at Manross Memorial Branch Library.
Our Next Meeting(s):

Date
Time
Location
Sept 5, 2013
6:30 p.m.
Bristol Library at 5 High St
Nov 14, 2013
6:30 p.m.
Bristol Library at 5 High St
Jan 23, 2014
6:30 p.m.
Bristol Library at 5 High St
Apr 24, 2014
6:30 p.m.
Manross Library at 260 Central St
Current committees:
Book Sales
Publicity
Programming
Membership
Fund Raising
Festival of Trees

Committee Chairpersons:
Co-Chairpersons Membership:
Mary Jane Mamed
Cathy Murawski
Co-Chairpersons Finances/Secretary:
Cathy Murawski
Donna Fanelli
Chairperson Grants:
Chairpersons Volunteers:
Linda Donovan (sales)
Ginny Deluzio (book store)
Pam Lindvall (hospitality)
Chairperson Publicity:
Chairperson Festival of Trees:
Chairperson Member Servies
Co-Chairpersons Parade:
Donna Fanelli
Dick Fanelli
Co-Chairpersons Memorial/Honor Fund:
Rose Ann Chatfield
Nancy Fandozzi
Co-Chairpersons Winter/Holiday Book Sale:
Sheila Koughan
Rose Ann Chatfield
Co-Chairpersons Summer Book Sale:
Cathy Murawski
Rose Ann Chatfield
Co-Chairpersons Special Programs:
Committee Chairpersons:
Co-Chairpersons Membership:
Mary Jane Mamed
Cathy Murawski
Co-Chairpersons Finances/Secretary:
Cathy Murawski
Donna Fanelli
Chairperson Grants:
Chairpersons Volunteers:
Susan Ciccarelli
Patty Olyarchik
Ginny Deluzio
Chairperson Publicity:
Chairperson Festival of Trees:
Chairperson Member Servies
Co-Chairpersons Parade:
Donna Fanelli
Dick Fanelli
Co-Chairpersons Memorial/Honor Fund:
Rose Ann Chatfield
Nancy Fandozzi
Co-Chairpersons Winter/Holiday Book Sale:
Sheila Koughan
Rose Ann Chatfield
Co-Chairpersons Summer Book Sale:
Cathy Murawski
Rose Ann Chatfield
Co-Chairpersons Special Programs:

Find the Friends on
Facebook