Please join us Thursday, May 9, at 6:30 p.m., as we welcome Robert Steele for a book talk and signing of his new novel, The Curse: Big-Time Gambling's Seduction of a Small New England Town. This free event will take place in meeting room 1 on the lower level of the Main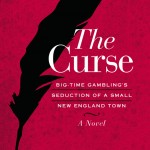 Library. No registration is necessary. Copies of the book will be available for purchase.
The Curse is a novel set against the explosion of casino gambling that hit Connecticut during the 1990s, when two Indian tribes emerged to build the world's two biggest casinos in the southeastern corner of the state. The story begins with the Pequot War in 1637, then jumps 350 years as a Connecticut family becomes embroiled in a struggle to block a third casino that threatens the family's town and ancestral home.
The lure of easy money drives everyone, from the tribe's chief to a shadowy Miami billionaire, venal politicians, and Providence mobsters, while a small, quintessential New England town must choose between preserving its character or accepting an extraordinary proposal that will change it forever.
As the battle over the casino reaches a climax, the main character discovers startling truths about his family's past-including centuries-old events that appear to be impacting the present with devastating effect.
WNPR/Connecticut Public Radio's John Dankosky calls the novel "fascinating" and Connecticut author Martin Shapiro has described it as "compelling and timely…an epic story of history, money and politics that will make you wonder where America is headed."
Robert Steele is a former Congressman and candidate for governor of Connecticut. He represented eastern Connecticut in Congress prior to the arrival of Foxwoods and Mohegan Sun, and subsequently lived for 21 years on the edge of the Mashantucket Pequot Reservation, giving him a front-row seat to the political maneuvering that led to the casinos and a first-hand view of their impact. He is currently vice chairman of an international retail marketing agency and lives with his wife in Essex, Connecticut.