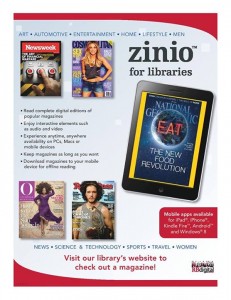 Now you can read popular magazines on your computer, laptop, tablet, or phone for free with your valid Bristol library card!
Zinio for libraries offers full digital copies — identical to the print edition — of your favorite magazines to view on your computer or mobile device. We have subscriptions to 20+ popular and specialty magazines, including high-demand titles like Weight Watchers and Martha Stewart Living. Best of all, there no due dates or overdues, so you will never have to wait for a magazine to be returned by another reader!
To get started, click on the Zinio button on our site, bristollib.com, or go directly to rbdigital.com/bristolct. You MUST have a valid Bristol library card to access Zinio.
The libraries' subscription to Zinio also includes access to Recorded Books' OneClickdigital Classics Collection! Download a terrific collection of eBooks and eAudio for free with your valid Bristol library card.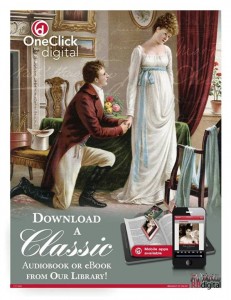 Simple 'One Click' download process
Mobile apps available for iPad, iPhone, Android, & Kindle Fire
Available 24/7
No waiting lists — unlimited availability of titles
Register and use the service from home
Want to get started with OneClickdigital? All you need to get started is your valid Bristol library card number! Register at our OneClickdigital download page @ bristollibraryct.oneclickdigital.com. OneClickdigital mobile and desktop apps are available for most devices.