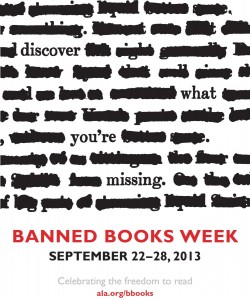 Banned Books Week is an annual event highlighting the value of free and open access to information. Observed since 1982, this annual American Library Association event reminds Americans not to take this democratic freedom for granted. To learn more about Banned Books Week, visit ala.org/bbooks.
To commemorate Banned Books Week, Bristol Public Library is hosting two events:
Scandalous Cinema September 23-26 & 28 at 2 pm, we will be showing films based on banned or challenged books. Click here for the complete schedule. Free snacks provided by Price Chopper.
Guess the banned or challenged book! Win a fabulous Banned Books Week tote and a $15 Starbucks gift card. From September 23-30 come in to the High Street library and read the clues given for three books that have been challenged or banned. Fill out an entry form with the title of one of the books, your name, and your phone number. Then place your entry form in the box. The winner will be drawn on October 1. Gift card supplied by our Friends.