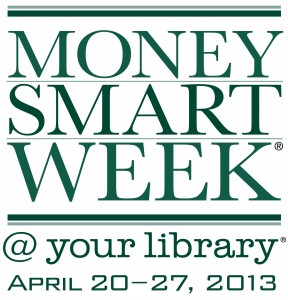 Being smart about money isn't always easy. Staying smart about money can be even harder. That's why Bristol Public Library is hosting a variety of free programs to help consumers learn to manage their personal finances during Money Smart Week®!
Money Smart Week is a financial literacy campaign lead by the American Library Association and Federal Reserve Bank of Chicago. Programming is offered to all demographics and income levels and covers all facets of personal finance from establishing a budget to first time home buying to estate planning. The effort was created by the Federal Reserve Bank of Chicago in 2002. Money Smart Week partners will be hosting their events April 20 – 27, 2013.
Taking Control of Your Finances in 8 Steps
Monday, April 22 @ 6:30
Kayse Kress, Senior Financial Advisor for Connecticut Wealth Management LLC, will teach you the eight steps to take control of your finances. You will learn about budgeting, spending plans, setting goals, managing debt, and more.
Debt Management & Credit Repair
Tuesday, April 23 @ 6:30
A representative from the Connecticut Department of Banking will discuss ways to manage your debt, repair you credit, avoid common credit mistakes, and how to interpret your credit report.
Avoiding Identity Theft & Financial Scams
Wednesday, April 24 @ 6:30
Identity theft is the fasted growing crime in America. Learn how to protect yourself and your assets from thieves who want to steal your information. Find out how to recognize the tricks of a con artist and the tell-tale warning signs of a scam. A representative from the Connecticut Better Business Bureau will lead this program.
Couponing: Beyond the Basics
Thursday, April 25 @ 6:30
Using coupons? Want to save more? This fun class with Angie Chastain, The Coupon Lady, provides information on meal planning, store loyalty programs, rebates, online incentive programs, and savings on gifts. Additionally, this class will cover saving money without coupons! This program is funded by a generous gift from the Friends of the Bristol Public Library.
All Money Smart Week events are free. Registration is recommended, but not required. To register, click on the event you wish to attend or call 860-584-7787 x2017. If you want to see what other Connecticut libraries are offering for Money Smart Week, visit the Money Smart Week map of events.