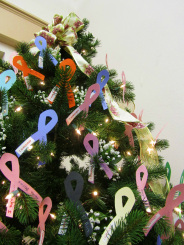 The Fourth Annual Bristol Public Library Cancer Survivor Tree of Hope is on display across from the Circulation Desk during the Friends' Festival of Trees. For the past three years, this tree was dedicated by Gail Straun to Gabe Straun, a Bristol Library employee since September 1992, who was diagnosed with Stage IV prostate cancer in May 2008, after receiving chemotherapy and several weeks of very intense radiation therapy, Gabe is back to work and doing great.
For the past two years, this tree was also dedicated to Diane Pelletier, Bristol Library employee since March 1999, who was diagnosed with breast cancer in October 2006. Diane underwent several surgeries, received chemotherapy, and has been cancer free for over three years. Diane has also been back to work full-time since April 2007.
Last year, this tree was also dedicated the tree to Library Page, Melody Sonstrom, who was diagnosed with Hodgkins Lymphoma. Melody has since recovered and is back at work.
And this year … this year, our tree is also dedicated to Gail.
Gail writes:
This year, the tree has a new very special meaning to me since I was diagnosed with Chronic Myeloid Leukemia on August 22, 2012.

What better time of year than the holidays — a time of giving and sharing — to offer hope and inspiration for anyone who may be diagnosed with this devastating disease. It is my hope that the almost three hundred ribbons already on our tree, and the stories of survival and courage represented by each and every one of them, will help others to see a light at the end of the tunnel when a cancer diagnosis is made for them, a friend, or a loved one. No one should have to travel the journey of cancer alone, and I hope this tree helps those who may feel alone to know that there are so many others who are walking in their same shoes. This Tree of Hope is also a symbolic event to demonstrate that life after a cancer diagnosis can be a reality.

If you have or have had cancer, or are a caregiver, family member or friend of someone diagnosed who has survived this disease, please choose the appropriate colored ribbon, write your (or their) name on the ribbon and place it on the tree. As each cancer survivor's ribbon decorates the tree, it will be one more ray of hope that a cancer diagnosis does not always mean that a life must end.